Sometimes the perfect dish is all rolled into one
Ingredients
Vegetable Blend
1 small onion
2 cups spinach
2 medium carrots (1 cup baby carrots)
Meatball Mix
1.5 lbs ground Turkey
1 whisked egg
1 tbsp Worcestershire sauce
Dash salt and pepper
2 tbsp chopped basil
½ cup breadcrumbs
Topping
½ cup ricotta cheese
1 large jar favorite pasta sauce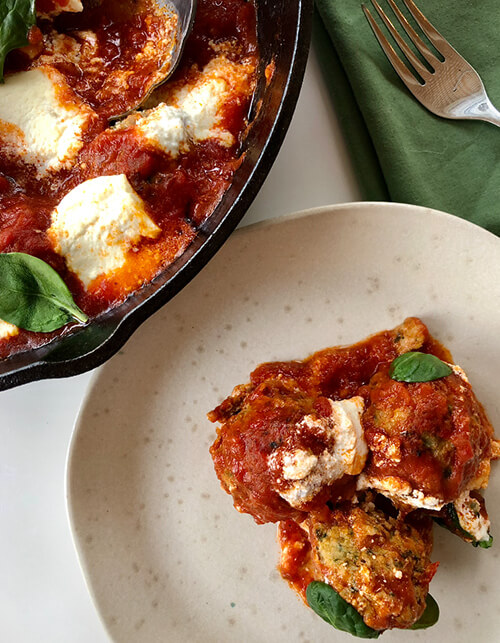 Instructions
Place the onions and spinach in a food processor and chop into small chunks. Leaving the onion and spinach mix, take the shredder attachment for the processor and shred carrots in to the mix.
Turn your oven on to 400 degrees. Take an oven safe dish and coat the bottom with a drizzle of olive oil and set aside.
Warm a pan to medium heat with 2 tablespoons of olive oil for 1-2 minutes. Add the vegetable mix, stir occasionally, and cook down until soft take off heat.
Place vegetable blend in a large bowl. Add ground turkey, egg, Worcestershire sauce, dash of salt and pepper, basil, breadcrumbs. Mix well.
Make 2 inch balls (with an ice cream scoop or by hand) and drop them spaced ½ inch away from one another into the prepped pan. Bake for 25 mins.
Pull pan from the oven, drizzle the sauce over the meatballs and add dollops of the ricotta cheese. Bake for additional 10 mins.
Make sure the internal temperature reaches 165! Serve alone or pair with your favorite pasta.