A hearty and complex upgrade; makes 24 cupcake-sized muffins
Ingredients
Vegetables
1 large zucchini (shredded)
20 baby carrots (shredded)
Dry Ingredients
1 ½ cups flour
¾ cups cornmeal
2 ½ teaspoons baking powder
½ teaspoons salt
Wet Ingredients
Extras
Non-stick spray
Muffin tray
Food processor with shredding attachment or a large food grater
Kitchen towel
Large ice cream scoop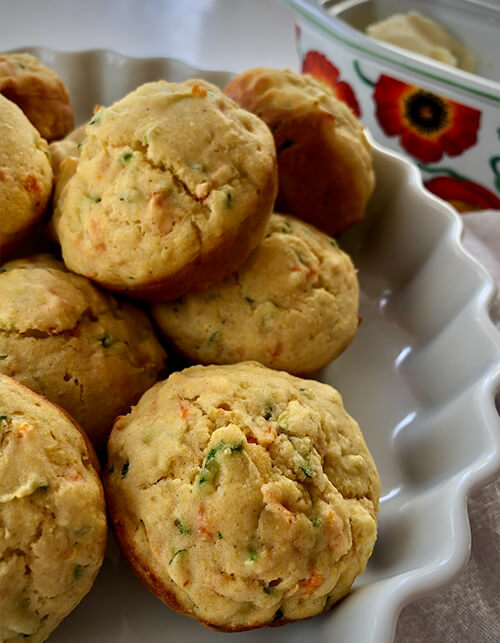 Instructions
Pre-heat your oven to 400 degrees. Make sure you have your muffin/cupcake tray ready!
Shred your vegetables using your food processor or grater. Place the shredded zucchini and carrots in a kitchen towel and squeeze out any of the excess water into your sink.
Combine the dry ingredients; set aside.
Mix the milk and eggs and combine with the dry ingredients until well combined.
Add the shredded/squeezed vegetables to the batter. Stir this muffin mixture just enough to combine it.
Spray your muffin/cupcake tray with a non-stick spray. Use your cookie scoop to place the mixture evenly into each tray.
Place into your oven and bake 10-12 mins or until a "test" toothpick comes out dry.
Top with butter and enjoy!