A healthier and lighter alfredo option
Ingredients
Cauliflower Alfredo Base
1 small head of cauliflower cut into chunks
2 cups of whole milk
2 tablespoons salted butter
2 cloves of garlic
1 diced medium-sized shallot
Dash of salt and pepper
Cauliflower Alfredo Cheese
1 cup of parmesan cheese thinly grated
½ cup mozzarella cheese
Protein
1 dozen medium shrimp (approximately 2 cups)
Finishing Touches
1 handful of fresh chopped basil
Parmesan cheese
Lemon zest
1 box of pasta of your choice
Salt and pepper to taste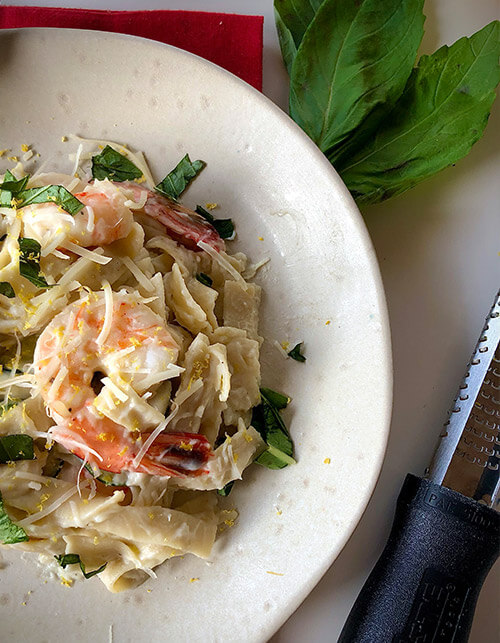 Instructions
Take your box of pasta and cook per the directions on the box. Set a timer to ensure the noodles don't get overcooked; when done, drain and set aside.
Next, take your shrimp and place in a steamer basket and cook until they turn pink after a few minutes; turn off the heat and set aside.
Take all the ingredients for your cauliflower alfredo base and place into a medium-sized stock pot. Place the pot on the stove on medium heat and cover; allow the base mixture to become "fork tender."
When "fork tender," take the base, put it in a blender, and purée.
Return the puréed mixture back to the stock pot over low heat.
Add in the cheese and stir until melted.
When done, pour the alfredo mixture over the noodles and add in your shrimp.
Take your fresh basil and sprinkle it on top.
Add lemon zest and extra parmesan cheese to taste!
You can feel comfortable swapping out the shrimp for chicken or even extra vegetables without any additional modifications.