Traveling can be stressful with children, but here are some tips to ease the tension.
My husband and I enjoy traveling very much and made a vow that we would continue to travel as much as we could even after having children. However, the first time I traveled with my firstborn son, I was completely stressed out and tried to mentally prepare for the trip over and over in my head. Besides making sure we had everything we needed for the flight and the trip itself, I think what worried me most was how the baby would enjoy the flight! Was he going to be a screamer? Would he sleep at all or would his ears bother him from the altitude? My husband and I practiced how we would go through airport security and even how we were to board the plane. Who will go first, who would carry the luggage, who would hold the baby and who would make the bottles when the baby was ready to eat? As with any new experience, you may be overwhelmed with fear, but then you realize all of that emotion was built up for what? Over the years, I learned a few tricks on traveling with children that allowed my husband and I to take our kids on airplane rides as long as 14 hours to Dubai, or as short as 2 hours to Florida, without a hitch.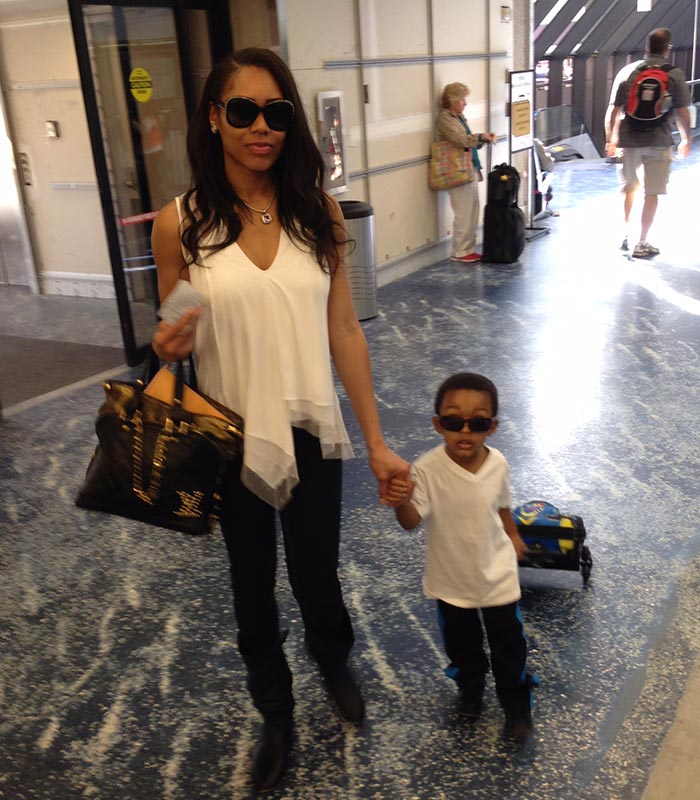 Here are some tips for airplane travel with little ones:
Choose flights closest to the time your little one usually takes a nap.It's the perfect ingredient to a smooth flight as your baby drifts off to sleep and remains sleep just before landing! I personally avoid nighttime flights with multiple kids because it's tough to carry them and bags while they tend to sleep on these late flights.
Take your children out in public a few times leading up to the day of travel so they're accustom to being out of the house. This simple tip will go a long way, especially for those who usually stay home with their children and lack interaction with people outside of the immediate family.
Choose the right clothing for travel! Young kids love to be comfy so sweats and comfortable shoes always work for my kids. For infants, try to avoid the one-piece outfits that button or snap at the bottom. You'd be surprised how stressful it is while on the plane, trying to snap those buttons after changing a diaper in the cramped space of the airplane bathroom! I always want to be as quick as possible because you never know when turbulence will strike! I go for outfits that zip or a top with separate bottoms and a 3-button onesie underneath if the weather is cold.
Pack spare clothes in your carry-on bag for kids just in case there's an accident. Also, pack a travel blanket to not only wrap a sleeping baby, but also
to have fabric between you and the baby in the case there's a diaper blowout! Most times we don't think to have spare clothes for us adults!
Timing is everything. Arrive to the airport on time so you don't have to rush. Allow time for security check, food and potty break before your flight takes off.

Use a wearable baby carrier so you have flexibility when it's time to check the stroller plane side, especially when you're traveling alone. Two hands are better than one and there's not always a good Samaritan nearby to assist you.
Have a plan for when you get to the airport. If traveling with multiples and a spouse/companion, assign a kid to each adult so there's less hassle going through security or keeping an eye on them. It's very easy and common for one parent to think the other parent has the child and God forbid they go missing.
Pack their favorite snacks and fun activities that will keep their little minds occupied during the flight.A surprise treat or toy can be a great reward for good behavior.
Get through security faster by carrying empty sippy cups then purchasing water after going through security.If traveling with a baby, keep all liquids and baby food in an area of your bag that is easy to access so you can remove them for screening and avoid timely bag checks.
Drink water only. Avoiding juice will also avoid numerous trips to the bathroom and also keep them hydrated for the long flight.

Make sure you and your children have a potty break before boarding. Change baby's diaper so it's fresh. Family restrooms are amazing and make it easier for changing diapers, potty break for multiples and parents in the same space.
Explain to your kids what to expect the day of travel and point out fun moments for them such as the train inside the airport or seeing the airplanes through the window.
Have a bottle prepped and ready for when you get on the plane.Sometimes the altitude affects baby's ears and drinking or chewing can help with the discomfort.
Know your child! The most important tip for traveling with children is-don't expect them to magically turn into angels simply because you are traveling. As parents, we get it! Children are sometimes unpredictable. Try not to beat yourself up or feel embarrassed if they're having a moment. You'll get through it!
Have a safe flight!