Fitness blogger and mom to 2 young kids, Erin Washington shares how it's not too late for any mom to make themselves a priority again.
Fitness blogger and our very own Not For Lazy Moms contributor, Erin Washington emphasizes balance, like lifting heavier and enjoying that spicy margarita along the way in her first memoir, Squats and Margaritas, available now on Amazon.
We had a chance to catch up with Erin about all things mom life!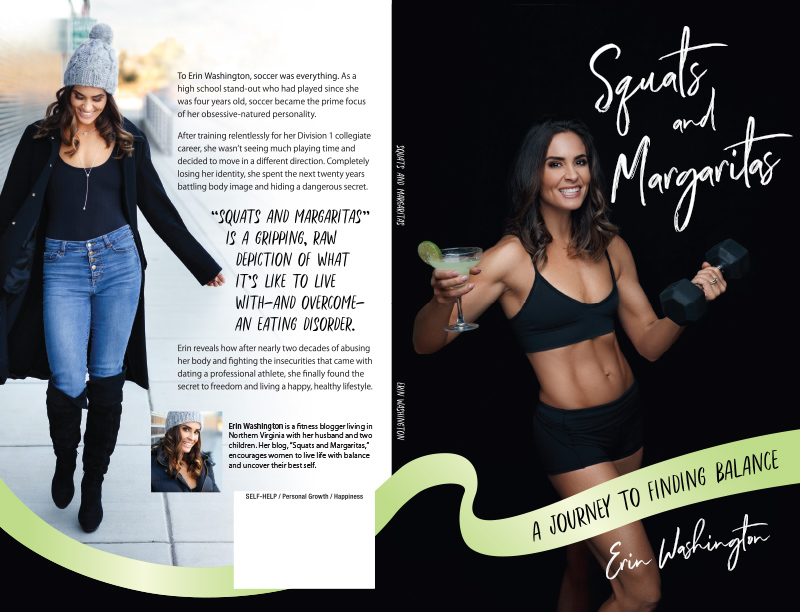 ---
1. What made you want to tell your story now?
Well, I didn't want to tell it now or EVER! My story came out organically while writing what set out to be a guide to help women find themselves after having kids. My editor kept getting confused by certain parts of my book and it was always at points where I was hiding all of my secrets. I never intended to share any of the mess that I went through. One day, on a call, she was questioning something that wasn't clearly explained and I just blurted (my eating disorder) it out. She responded, "OK… that's your book."
2. What advice would you give to the woman who doesn't like to workout?
Committing to start working out is the hardest part. Once you do that and start seeing the results in your body and in how you feel, you will want to go to the gym. You will feel so much better about yourself and your energy will skyrocket. I promise it gets better once you start noticing the results.
---
3. What advice would you give to the woman who keeps making excuses? "I don't have time, zero energy, I don't know where to start …"
You have to make yourself a priority. You'll have much more energy for your kids, husband and everyone else who depends on you if you just take an hour for yourself. YOU matter too! I'm much more present and locked in with my kids if I just set an alarm and get a workout in before I start my day with them. And once you start seeing the results from your workouts, you'll be a much happier person which equates to a better mom and better spouse. Not much gets you down when you are truly happy in your own body.
4. What is your ideal "balanced" meal?
blackened salmon, guacamole with a handful of chips and a spicy skinny margarita
5. In your book you give ways on how to workout with your kids so it's fun for them and a sweat for you, how do you incorporate them when it comes to the meals you cook? Do they eat them too?
Wait, toddlers eat?? I have two of them and they frown upon any dish that's not mac and cheese. If someone can write a book about how to get toddlers to eat, please send me a copy!